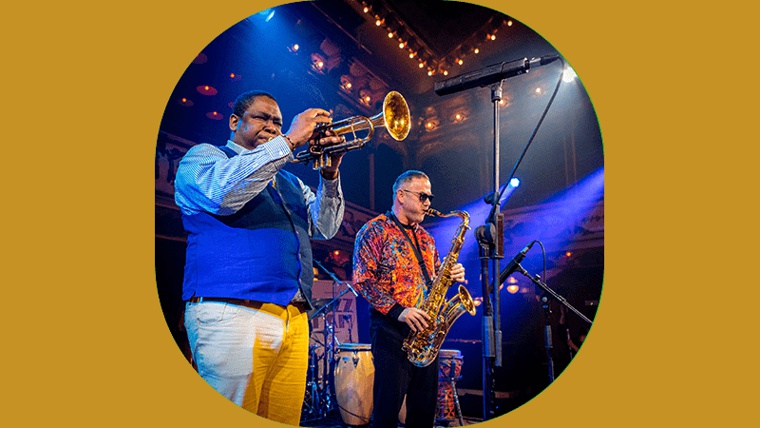 Jazz. A band that combines modern jazz with the most traditional kind.
Jamboree will be hosting a concert by the band Jazz Brigade, with trumpeter Freddie Hendrix, and led by saxophonist Sylwester Ostrowski. The band will be presenting compositions by Ostrowski and Hendrix themselves, a celebration of modern jazz that doesn't underestimate the weight of tradition.
Polish saxophonist and composer Ostrowski has teamed up with trumpeter Freddie Hendrix, soloist with the Count Basie Orchestra, renowned Catalan pianist Albert Bover, groover Owen Hart Jr, Essiet Essiet, Art Blakey on double bass, and guitarist Mizeracki. Together they form a group that has performed in shows such as A Night in Anzio (Italy), and A Night at La Paloma (Barcelona).
Traductor de

:
Schedule
Days
Hours
Preus

Dimarts

a les 19.00 h i
a les 21.00 h

Entrada general: 15 €

a taquilla




Entrada anticipada: 12 €

(+ despeses de gestió)
Freddie Hendrix trompeta, Sylwester Ostrowski saxo tenor, Miki Hayama piano, Jakub "Mizer" Mizeracki guitarra, Essiet Okon Essiet contrabaix, Owen Hart Jr bateria. Convidat: Albert Bover piano.
Join the Jazz Brigade!
Band lead by Sylwester Ostrowski featuring Freddie Hendrix and Essiet Essiet comes to town
La Brigada del Jazz es posa al servei de tothom que busqui una bona dosi de bop aquest estiu. Una banda extraordinària, amb col·laboracions nombroses i creatives, recorre Europa. Del Colisseu de Roma al festival d'Amersfoort, el líder de la formació, Sylwester Ostrowsky, es dirigeix a cada aficionat i li diu ben alt: "Té, jazz!" Gaudiu, doncs, de les composicions d'autoria pròpia d'Ostrowsky i Hendrix, una celebració del jazz modern però sense menystenir el pes de la tradició. Fruïu també de la complicitat d'un grup d'amics, de diferents indrets i generacions, que comparteixen talent i amor per la música. Ostrowsky, saxofonista i compositor polonès, s'ha ajuntat amb el trompetista Freddie Hendrix, solista de la Count Basie Orchestra, el reconegut pianista català Albert Bover, el groover Owen Hart Jr, Essiet Essiet, contrabaixista d'Art Blakey, i el guitarrista Mizeracki. Plegats constitueixen un grup rodat en espectacles com ara 'A Night in Anzio' (tàlia), i 'A Night at La Paloma' (Barcelona).
Address:

Plaça Reial, 17

District:

Ciutat Vella

Neighborhood:

el Barri Gòtic

City:

Barcelona
Where
When

16/08/2022
Website
You may also be interested in...
If you would like to make a correction related to this activity...let us know