Traductor de

: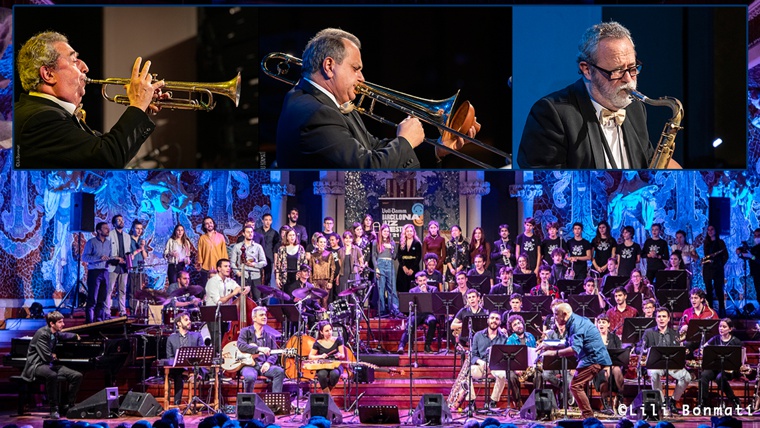 Joan Chamorro, direcció
Convidats especials:
Solistes La Locomotora Negra
Ricard Gili, trompeta i veu
Toni Gili, saxos tenor i soprano
Marc Trepat, trombó
Durant més de dues dècades, La Locomotora Negra ha estat part essencial del nostre festival, sempre amb un programa nou d'estrena. Un d'aquells anys, el 2010, La Locomotora ens va proposar un concert titulat  Swing, Swing, Swing! que va suposar el debut al Palau d'un projecte aleshores gairebé acabat de néixer, la Sant Andreu Jazz Band (SAJB). 12 anys després, La Locomotora ha dit adéu als escenaris i la SAJB s'ha consolidat com un dels projectes més fascinants de la història recent del jazz, i no solament a casa nostra.  Passing the Torch és un homenatge, doncs, al passat, el present i el futur del jazz, amb tres dels fundadors de La Locomotora Negra (Marc Trepat i els germans Ricard i Toni Gili) com a convidats especials de la big band dirigida per Joan Chamorro. Una orquestra per la qual ben aviat hauran passat més de 100 músics i que ha viscut una renovació increïble en els últims anys. El futur del jazz és aquí, i la Sant Andreu Jazz Band n'és protagonista destacada. La torxa continua ben viva.
Schedule
Days
Hours
Preus

Divendres

a les 20.30 h

Entrada general de: 18 a 42 €

(+ despeses de gestió)
Address:

C Palau de la Música, 2

District:

Ciutat Vella

Neighborhood:

Sant Pere, Santa Caterina i la Ribera

City:

Barcelona
When

25/11/2022
Website
Web venda d'entrades:
You may also be interested in...
If you would like to make a correction related to this activity...let us know