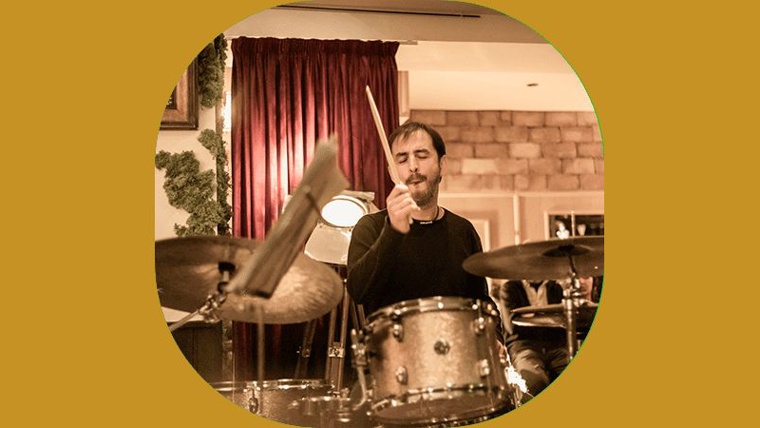 Jazz. This internationally renowned drummer presents his latest album.
Gonzalo del Val presents his new discographic production Tornaviaje in Sala Jamboree. The album has been recorded with a new line-up, with the additions of Raynald Colom (trumpet), Romain Pilon (guitar) and Manel Fortià (double bass).
Over the course of his career, this drummer has worked with personalities like Dave Liebman, Stéphane Belmondo, Marc Miralta, Víctor de Diego, Jordi Bonell, Horacio Fumero, Albert Bover and Joan Albert Amargós.
As a solo artist, his work has made an impression in countries like France, where he is considered "one of the best representatives of the contemporary Spanish scene", according to So Jazz; and the USA, where he has been widely reported in All About Jazz.
His discography includes works like Koiné, as a trio with Marco Mezquida and David Mengual; Standards in Dublin, with Dave Liebman; and Cancionero, which received the Enderrock Award for best jazz record.
Traductor de

:
Schedule
Days
Hours
Preus

Dissabte

a les 19.00 h i
a les 21.00 h

Entrada general: 15 €

a taquilla




Entrada anticipada: 12 €

(+ despeses de gestió)
presenta TORNAVIAJE
amb Raynald Colom, Romain Pilón i Manel Fortià
Raynald Colom trompeta, Romain Pilón guitarra, Manel Fortià contrabaix, Gonzalo del Val bateria.
El mirandès Gonzalo del Val és un dels bateries més destacats de l'escena nacional. En la seva extensa trajectòria, ha fet feina amb figures com Dave Liebman, Stéphane Belmondo, Marc Miralta, Víctor de Diego, Jordi Bonell, Horacio Fumero, Albert Bover i Joan Albert Amargós. En solitari, ha signat una obra brillant, apreciada per la crítica i l'afició més exigent, i amb ressò a països com França —"un dels millors representants de l'escena espanyola contemporània" (So Jazz)— i els EUA —portada i ampli reportatge a All About Jazz. La seva discografia inclou treballs com ara 'Koiné' (FSNT, 2016), a trio amb Marco Mezquida i David Mengual, 'Standards in Dublin' (Quadrant, 2018), amb Dave Liebman, i 'Cancionero' (2020), millor disc de jazz als Premis Enderrock. Al Mas i Mas'22 presentarà un nou treball, 'Tornaviaje', enregistrat amb una formació nova, completada per dos grans del nostre jazz —Raynald Colom i Manel Fortià— i un de l'escena francesa —Romain Pilon.
Address:

Plaça Reial, 17

District:

Ciutat Vella

Neighborhood:

el Barri Gòtic

City:

Barcelona
Where
When

13/08/2022
Website
You may also be interested in...
If you would like to make a correction related to this activity...let us know