Traductor de

: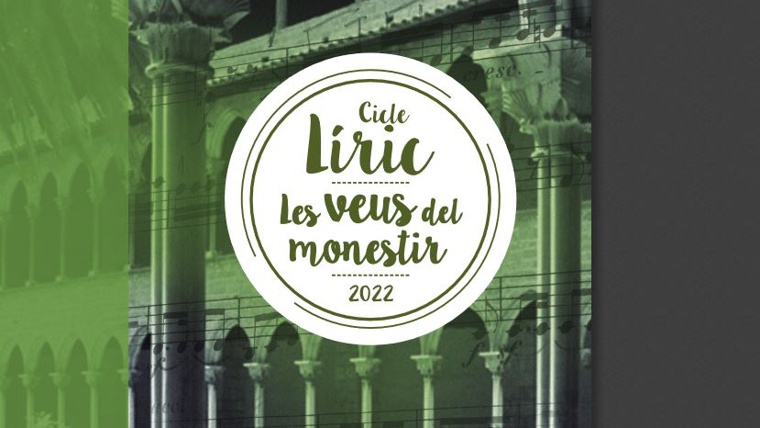 El Reial Monestir de Santa Maria de Pedralbes cedeix, en col·laboració amb el Districte de les Corts i l'escola musical A Tempo, l'espai de la Sala d'Actes del museu per organitzar un cop al mes un cicle de lírica en el marc incomparable del cenobi.
Programa:
19 de gener
Héctor Rodríguez, tenor
"Alma iluminada" Verdi, Leoncavallo, Puccini ,Torroba.
16 de febrer
Cecilia Rodríguez, soprano
"Je suis féministe" Strauss, Mozart, Poulenc, Cimarosa, Donizetti
16 de març
Marina Carvahlo, mezzosoprano
"Fascinació" Purcell, Massenet, Bizet, Saint Saens , Ravel
20 d'abril
Violeta Alarcón, soprano
"Cants d'amor i de record" Gluck, Mozart, Dvorak, Cesti.
18 de maig
Aseel Maossud, soprano
"Lobelia" Bellini, Rimsky Korsakov, Donizetti, Mozart, Dvorak.
15 de juny
Carlos Enrique Ortiz, tenor
"Mediterrànea" Rossini, Donizetti, Mozart, Lalo.
13 de juliol
Gran Gala Lírica.
Alejandro Chelet (Baríton) Madamina! Il catalogó è questo.( Don Giovanni). W. A. Mozart.
Lesby Bautista (Contratenor). Lascia Ch'io pianga. (Rinaldo). G. F. Händel
Sabrina Garcia (Soprano). Quel guardo Il cavaliere. (Don Pasquale). G. Donizetti.
Alejandro Chelet- Lucía Iglesias . Là ci darem la mano (Don Giovanni). W. A. Mozart
María Luisa Moreno (soprano) Ebben. Ne andró lontana ( La Wally). A. Catalani
Yelen Montero – Lesby Bautista, Barcarola (Los cuentos de Hoffmann) J . Offenbach
Aseel Massoud (Soprano) Piangete voi, Al dolce guidami (Anna Bolena). G. Donizetti.
Albert Cabero (Barítono). Tanzlied des Pierrot (Die Tote Stadt) E. W. Korngold
Hector Rodriguez – Maria Luisa Moreno. O soave fanciulla (la Bohème). G. Puccini
Lucia Iglesias (Soprano). Je marche… Obéissons quand leur voix (Manon). J. Massenet
Albert Cabero -Aseel Massoud. Quanto amore. L'elisir d'amore. G. Donizetti
Héctor Rodríguez (tenor) Nessun dorma (Turandot) G. Puccini.
Sabrina García. La Petenera (La Marchenera ). M. Torroba
Yelen Montero (soprano) Maria la O (E. Lecuona)
Brindis de Traviata. G. Verdi.
19 d'octubre
Laia Mata, soprano
"La veu del cor" Puccini, Mozart , Poulenc, Ginastera.
16 de novembre
Anna Niebla, soprano
"Subtil memòria" Mozart, Puccini, Arditi, Bizet , Granados.
14 de desembre
Alejandro Chelet, barítono
"Viajando en clave de fa" Mozart, Bellini , Donizetti , Verdi
Schedule
Days
Hours
Preus
Observation

19 gener,
16 febrer,
16 març,
20 abril,
18 maig,
15 juny,
13 juliol,
19 octubre,
16 novembre i
14 desembre

de 19.00 h a 20.00 h

Entrada Gratuïta

Cal inscripció prèvia. Les reserves es faran 15 dies abans de l'inici de cada concert i només es faran per internet.
Others
Occur on:

Registration at:

Organised by:
Address:

Baixada del Monestir, 9

District:

Les Corts

Neighborhood:

Pedralbes

City:

Barcelona
When

From 19/01/2022 to 14/12/2022
Website
You may also be interested in...
If you would like to make a correction related to this activity...let us know