Traductor de

: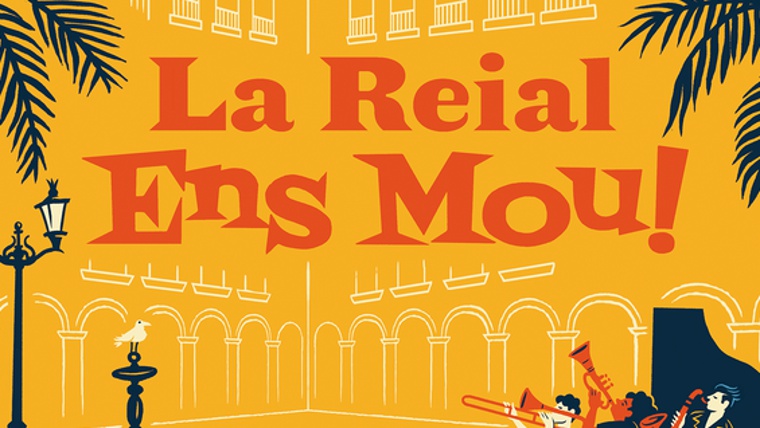 Actuacions musicals, activitats infantils i jornades esportives entre els mesos de juliol i octubre amb la plaça Reial com a teló de fons és allò que proposa el cicle La Reial Ens Mou!, una iniciativa de l' Associació d'Amics i Comerciants de la plaça Reial amb el suport de l' Ajuntament de Barcelona. Hi haurà propostes per a totes les edats i gustos, i un dels objectius del programa és revitalitzar aquest indret tan emblemàtic i que la ciutadania local i de les proximitats de Barcelona hi acudeixi.
La música en viu és un dels plats forts d'aquesta primera edició. S'hi podrà escoltar jazz, rumba, salsa o flamenc, amb artistes com Andreu Martínez, Crisbu, Old Fashioned, Daphne, Ganzá i Perico Sambeat. Els diumenges al matí estan especialment pensats per a la canalla, amb diferents tipus d'activitats: contacontes de Rubén Martínez i la companyia Tip Tap, espectacles de màgia de Fèlix Brunet, animacions musicals de la mà de la companyia Farsants, o les titelles de la companyia Sebastià Vergés. També hi haurà jornades esportives els dissabtes al matí amb classes impartides per reconeguts experts de ioga, pilates, zumba, crossfit i GAP. Un acte destacat de la programació serà l'homenatge que, el 18 de setembre, es rendirà al pintor i artista Jose Pérez Ocaña, personatge estretament vinculat a la plaça, amb motiu del 38è aniversari de la seva mort.
Totes les activitats són gratis i les entrades es poden aconseguir a través del web www.lareial.com.
Concerts:
dijous 1 de juliol, a les 18.30h: The Saint 3
divendres 2 de juliol, a les 18.30h: Marató Maria Canals
dissabte 3 de juliol, a les 18.30h: To Wit
divendres 9 juliol, a les 18,30h: NON JAMBI
dissabte 10 de juliol, a les 18.30h: CRISBRU
dissabte 17 de juliol, a les 18.30h: Old Fashioned Boy
divendres 23 de juliol, a les 18.30h: Marta Sierra Quartet
dissabte 24 de juliol, a les 18.30h: Ganzá
Schedule
Days
Hours
Preus
Observation

1 juliol,
2 juliol,
3 juliol,
9 juliol,
10 juliol,
17 juliol,
23 juliol i
24 juliol

a les 18.30 h

Entrada Gratuïta
Plaça Reial
Address:

Plaça Reial, 1

District:

Ciutat Vella

Neighborhood:

el Barri Gòtic

City:

Barcelona
Where

Plaça Reial
When

From 01/07/2021 to 31/10/2021
You may also be interested in...
If you would like to make a correction related to this activity...let us know