Traductor de

: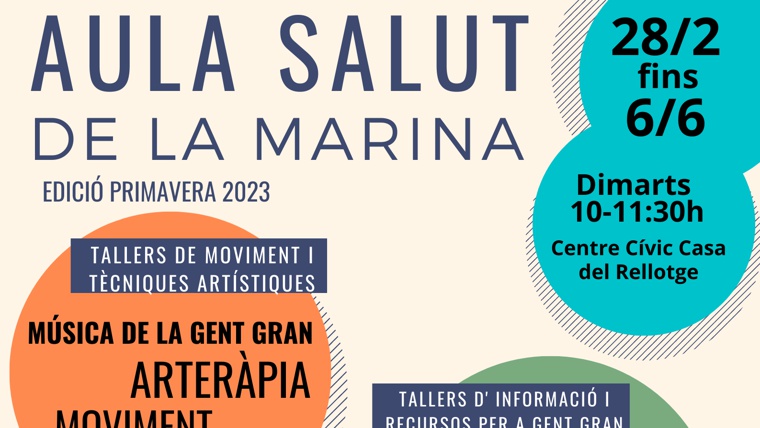 Des de l'any 2008 existeixen a algun barris de Barcelona les Escoles de Salut de les Persones Grans (ESPG). Consisteixen en sessions grupals gratuïtes setmanals d'una durada d'una hora i mitja, on els/les assistents prèviament inscrits/tes, participen en tallers pràctics i xerrades. És una intervenció liderada per l'Agència de Salut Pública de Barcelona (ASPB), que treballa estretament amb altres institucions i entitats actives en els barris: equips d'atenció primària (EAPs), associacions de veïns, biblioteques, casals de gent gran, serveis socials, centres cívics, residències geriàtriques i associacions de voluntariat, entre d'altres.
Mitjançant diverses avaluacions es demostra que les ESPG tenen un impacte positiu en el benestar emocional i la qualitat de vida de les persones.
 A la Marina, el programa, s'ha anomenat "Aula de Salut" i es gestiona des del Grup de Treball de Gent Gran on estan la tipologia d'agents mencionats i on el VilaVeïna s'hi suma.
A l'Aula de Salut de la Marina 2023, tots els dimarts a les 10h a partir del 28 de febrer fins al 06 de juny, es podrà gaudir de diferents tipologies de tallers.
-          Tallers de moviments i tècniques artístiques:
o  Música per a la Gent Gran.
o  Artteràpia.
o  Moviment corporal.
-          Tallers d'informació i recursos per a Gent Gran:
o  Prevenció de riscos a casa (amb els bombers)
o  Document de Voluntats Anticipades.
o  Casals de Gent Gran, Vincles i Radars, explicació dels Serveis de l'Ajuntament.
-          Tallers al voltant de la salut .
o  Les cures i la Salut Mental.
o  Sexualitat per a Gent Gran.
o  Nutrició.
o  Risoteràpia.
Schedule
| | Days | Hours | Preus | |
| --- | --- | --- | --- | --- |
| | Dimarts | de 10.00 h a 12.00 h | Entrada Gratuïta | |
Address:

Passeig de la Zona Franca, 116

District:

Sants-Montjuïc

Neighborhood:

la Marina de Port

City:

Barcelona
When

From 28/02/2023 to 06/06/2023
Phone number
Tel.:

93 00 00 460 Casal de Barri La Vinya: dilluns i divendres de 09.30 a 13.30 h , dilluns i dimarts de 16 a 20 h.

Tel.:

Fax:
E-mail
E-mail:

vv_lamarinaport@bcn.cat
You may also be interested in...
If you would like to make a correction related to this activity...let us know