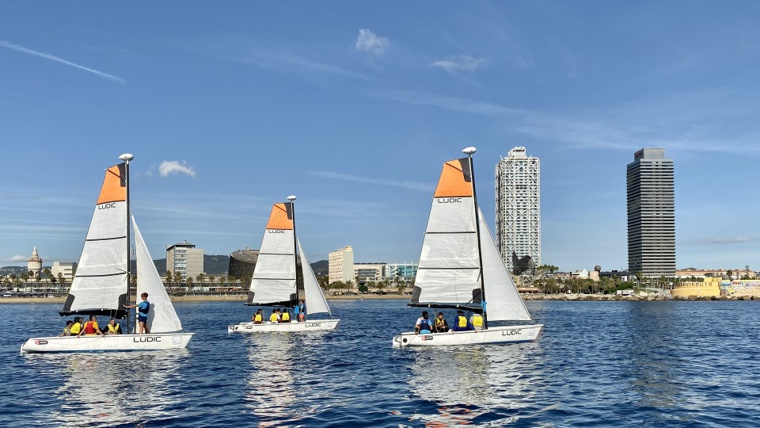 Sailing excursion. An outing to enjoy Barcelona from another perspective.
The Municipal Sailing Centre is offering two-hour excursions along the coast on light sailing boats, offering you the chance to observe the city skyline while enjoying the unique sensation of sailing and the power of the wind and sea.
An instructor will accompany you during the trip, guiding the leisure craft so you can relax and enjoy the setting.
You can book by sending an email to info@velabarcelona.com.
Schedule
Days
Hours
Preus
Observation

Tots els dies

de 18:00 h a 20:00 h

Entrada general de: 39 €

Durada: 2 hores.
Mínim de participants:
2 persones
Others
Occur on:

Organised by:
Per a descobrir Barcelona des d'un altre panorama, t'oferim un passeig en veler per la costa, disfrutant de la sensació única de desplaçar-te pel mar, impulsats per la força del vent.
Observant des d'un entorn natural la proximitat del paisatge urbà, un dels nostres monitors guiarà l'embarcació per a que pugis relaxar-te i disfrutar de l'ambient marí.
Recomanacions:·Calçat esportiu o nàutic (Són recomanables escarpins si se'n disposa)·Roba esportiva en funció de la temporada: ·Primavera - Estiu és necessari dur banyador, samarreta, una gorra i protecció solar·Tardor - Hivern és necessari dur jaqueta tallavents i/o impermeable segons les condicions i la temperatura de l'aigua·Roba completa de recanvi
Address:

Moll Gregal, 33

District:

Sant Martí

Neighborhood:

la Vila Olímpica del Poblenou

City:

Barcelona
When

Permanent event
Phone number
Information:

Tel.:

Tel.:
Website
You may also be interested in...
If you would like to make a correction related to this activity...let us know