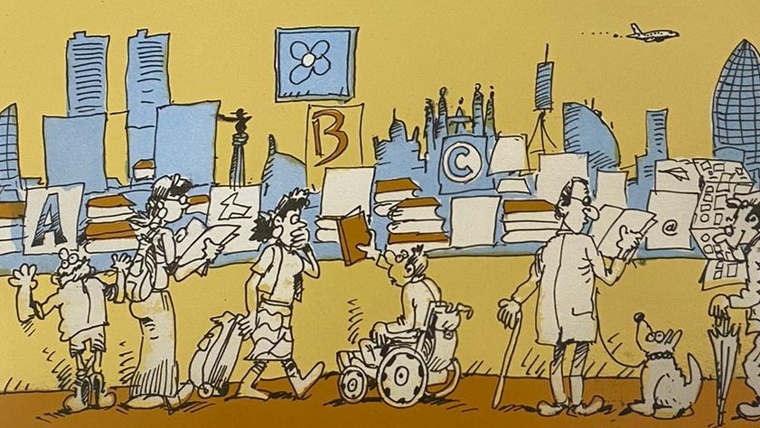 Antiquarian books. An unmissable event for collectors, those on the lookout for bibliographical gems, and book lovers in general.
From 16 September to 2 October, the Secondhand, Antiquarian and Modern Book Fair will be offering a wide selection of old books, with something to suit everyone - hardbacks, paperbacks, comics, illustrated albums and much more. A unique opportunity to discover real gems and out-of-print copies at the 27 little stalls that will line Passeig de Gràcia.
Catalan linguist and lecturer at the Philological Faculty at the University of Barcelona Maria Carme Junyent will be giving the opening speech.
If you visit the fair, you'll also be able to see the L'Enquadernació d'Art a Catalunya al segle XX exhibition at the exhibition hall on the Passeig de Gràcia. It's located between Gran Via and Diputació streets (Llobregat side), at stand number 10.
Traductor de

:
Schedule
| | Days | Hours | Preus | |
| --- | --- | --- | --- | --- |
| | 16 setembre | de 12:00 h a 20:30 h | Entrada Gratuïta | |
| | De dilluns a dissabtes | de 10:00 h a 20:30 h | | |
| | diumenges i festius | d'11:00 h a 20:30 h | | |
El pròxim 16 de setembre a les 11 del matí s'inaugura la 71a Fira del llibre d'Ocasió Antic i Modern al Passeig de Gràcia a l'estand n. 10
És una tradició del Gremi que la inauguració sigui un motiu més de celebració. Per aquest motiu, sempre ens agrada que ens acompanyin grans escriptors per retre, d'aquesta manera, un homenatge a les lletres sota l'aixopluc del Monument del Llibre del gran poeta Joan Brossa a la nostra i sempre esperada Fira.
Pregó
A càrrec de Maria Carme Junyent Figueras és una lingüista catalana. És professora de lingüística a la Facultat de Filologia de la Universitat de Barcelona, duu a terme la recerca en l'àmbit de les llengües amenaçades, l'antropologia lingüística i les llengües de la immigració a Catalunya. És la directora del Grup d'Estudi de Llengües Amenaçades (GELA) i autora d'una àmplia obra sobre la situació de les llengües del món i la diversitat lingüística.
Passeig de Gràcia entre Pl Catalunya i Consell de Cent
Address:

Pg Gràcia, 1

District:

Eixample

Neighborhood:

la Dreta de l'Eixample

City:

Barcelona
Where

Passeig de Gràcia entre Pl Catalunya i Consell de Cent
When

From 16/09/2022 to 03/10/2022
Website
You may also be interested in...
If you would like to make a correction related to this activity...let us know