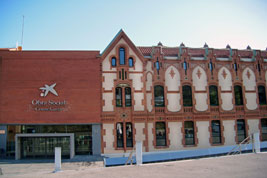 Film. Alia and Len travel the universe looking for a new world to inhabit.
CosmoCaixa presents Spherium, an animated 2D fulldome programme produced by Madrid Planetarium, in collaboration with La Caixa.
The programme, which is recommended for a young audience, tells the story of Alia and Len's journey around the universe. These inhabitants of a condemned world set off on the Spherium ship, equipped with artificial intelligence, to find a new world to inhabit.
Their survival instinct will lead them to visit places all over the cosmos, where they will marvel at exotic worlds and some of the extrasolar planets astronomers have discovered over the years, like Super-Earths and Hot Jupiters. They will also observe physical phenomena deemed hypothetically possible by current theories, like wormholes and time travel. But where will this exciting voyage take them?
Traductor de

:
Schedule
Days
Hours
Preus

De dilluns a divendres

a les 18.00 h

Entrada general: 6 €

+ entrada al museu




Descompte 50%: clients CaixaBank

Dissabte, diumenge i festius

a les 16.00 h i
a les 19.00 h
Others
Occur on:

Tickets sold at:

Organised by:
A bord de la nau espacial Spherium, dotada d'intel·ligència artificial, l'Alia i en Len busquen urgentment un nou planeta on viure. T'atreveixes a acompanyar-los en el seu singular viatge?
Durant aquesta odissea descobriràs un univers desconegut. Saps que al cosmos hi ha planetes molt diferents dels del nostre sistema solar, com ara les superterres o els júpiters calents? No et perdis 'Spherium', una projecció 2D de dibuixos animats.
Aquesta projecció està recomanada per a majors de 12 anys.
Address:

Carrer d'Isaac Newton, 26

District:

Sarrià-Sant Gervasi

Neighborhood:

Sant Gervasi - la Bonanova

City:

Barcelona
Where
When

From 13/09/2021 to 31/10/2021
Phone number
Switchboard:

932126050

Fax:

932537473
Website
Web venda d'entrades:
You may also be interested in...
If you would like to make a correction related to this activity...let us know